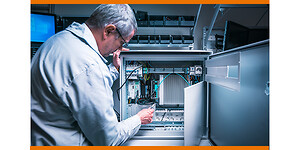 Industrial PC – designed for longevity
Usually, companies make these decisions based on budget. But it is important to consider the long-term benefits of an industrial model before selecting a cheaper commercial set-up. Industrial PCs are built to last much longer than their commercial counterparts. It is widely accepted that Industrial PCs might provide up to 15 years of service, whereas commercial machines tend to have a much shorter shelf-life. After one or two years, you have to replace them and start again.
Not only that, Industrial PCs are designed for longevity. Their parts and components continue to be supported for many years, so their overall life-cycles are much longer. This is important because it means users can implement long-term strategies knowing their technical set-up will remain stable and reliable.
Industrial PC – for critical applications
Many organizations across diverse vertical markets are faced with a choice over the type of computing set-up they need to optimize their operations. Often, this comes down to whether they can achieve their goals using commercially-available PCs and equipment, or whether it is better to invest in an industrial computing solution.

Consider also the environment your computers need to operate in. Any application where a computer is required to run 24/7 is usually beyond the scope of commercial technology. Critical applications require industrial computing solutions, whereas commercial PCs are designed to be switched off at the end of the working day.
Reliability is a big factor for these applications, particularly if they are required to operate outdoors. Specialist, robust machines are essential to ensure you get optimized performance, strong weather-resistance and minimal down-time.
⇒ ⇒ ⇒ See a selection of Recab`s range of Industrial Computers
Industrial PC – harsh environment
The harsher the environment, the more essential industrial computers become. Many are able to perform in extreme temperatures, with a typical range of -20 to +75 °C. If you compare that to commercial PCs with their range of 0-35 °C, you can see that industrial models are the only real option for year-round outdoor performance.
Certain industries also have tough regulatory and certification benchmarks. Marine and off-shore applications, for example, require equipment to meet rigorous performance standards. This creates a layer of complexity that only a bespoke industrial solution can provide.
Industrial PC – connectivity, compatibility and automation
In the modern age of Industry 4.0 and the Internet of Things, connectivity, compatibility and automation are all vital considerations. But with most industrial solutions as nimble as commercial PCs in terms of cloud technology and interoperability, it should be possible to find something that solves all your challenges around staying connected across multiple locations and platforms.
Industrial PCs come in a wide range of forms to cover a multitude of purposes and usages:
Industrial motherboards, from COM modules to ATX, ensure large span of performance
Legacy IO, like serial ports for connecting to sensors
BOM freeze secures long-term product qualification
Interface slots for industrial grade IO boards and storage
Conformal coating prevents corrosion

Recab: Industrial PC
At Recab, we are committed to putting together the best bespoke industrial solutions for our customers. Working with the most prominent suppliers all over the world, we can provide rugged industrial PCs and components for any application in any vertical market.
When we work on a project, we prefer to look to the future. We suggest hardware that is built to last and can stand up to the harshest environments. With our vast experience and expertise, we know that investing in industrial solutions from the start provides better value for customers in the long term.
For many years we have been leaders in the field of embedded computer systems, helping customers all over the Nordic region make enhancements to their IT capabilities and processes. Since 2018, we have added two business sectors: Industrial Data Communication and Sensor, ID and Vision. This gives Recab access to a vast portfolio of products, and gives us the potential to provide a holistic service across all a customer's hardware needs.
Link to a selection of our Industrial PC.
Welcome to contact us for solutions, products or support: info@recab.com
Recab Denmark
Hassellunden 14
DK – 2765 Smørum
Phone + 45 70 300 310
⇒ ⇒ ⇒ ⇒ More News from Recab at this site - see a selection below:
- Recab Catalog – Developed products & solutions
- Winmate: L140 Series Rugged Laptop - For Challenging Work
- Recab News: VPX with Intel's 11th Generation Processors
- Sony STARVIS IMX462 sensor for Color Industrial Cameras
- NEW version: Hirschmann Operating System (HiOS) V9.0